I am not a "joiner". I don't do book tours, I don't do book challenges for the most part, I like to read at my own flow and not be hurried or pressured by deadlines.
HOWEVER, this challenge makes me want to throw my convictions out the window. So I did.
#TheReadingQuest is a reading book challenge hosted by readatmidnight.com. This is the description according to her blog's sign up post:
"I invite you to join me on a reading adventure based entirely on a video-game quest. In this challenge, you'll be embarking on a journey to conquer your TBR pile through a series of stages. You'll read new stories, gain experience, and level up a character of your choosing."
Video-game quest? Gain experience? LEVEL UP? Oh my, sign me up! It is definitely one of the most involved challenges I have ever come across. Not to mention the graphics for this challenge are so beautiful, huge props go to CW of Read, Think, Ponder for her terrific work.
You get to choose between 4 different characters archetypes: Knight, Bard, Mage, and Rogue.
Both Lexie and me are joining this particular challenge, and so we agreed that each of us should choose different characters in order to have more variety and cover more ground. I choose…
The Rogue
ROGUE: These adventurers have absolute mastery over stealth and speed, and they slip in and out of the quest through the Fifth Across path. They celebrate underappreciated books and half-forgotten stories.
I was between the Mage and the Rogue when I first heard of the challenge, but then I realized that if I really wanted it to be a challenge that I needed to step out of my comfort zone (MAGIC! ALTERNATE REALITIES! MYTHOLOGY!) and try and tackle the path less traveled. To become worthy of the Rogue title I must read the following:
A Banned Book
A Book cover with a partially obscured face (uuuh)
A Book with <500 ratings on Goodreads (do not judge me, but I totally looked up if that meant more or less than 500 ratings online, math is hard).
A Book published by a small press. (Well, shit).
A Book with a one word title.
The last square if definitely the easiest one on the Rogue path (which coincides with the Mage path).
★ For my

Banned Book

picked I perused the ALA website, and came across…
I actually bought this book last year and am looking forward to finally getting to read it!
Banned reason: There are two boys kissing in the cover, covers LGBT issues as well as sexuality issues. The horror.
★

A Book cover with a partially obscured face: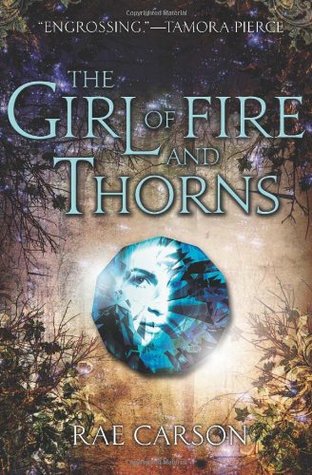 Once a century, one person is chosen for greatness.
Elisa is the chosen one.

But she is also the younger of two princesses, the one who has never done anything remarkable. She can't see how she ever will.
Never read it, totally have it on my TBR pile. Time to dust it off and give it a twirl! Plus I get some fantasy out of this challenge…
★

A Book with <500 ratings on Goodreads

:
Acadia—the last human city, a fact all of its citizens were told from birth. For two hundred years, a countless host of creatures have laid siege to Acadia, leaving the land rough with the bodies of the fallen. For Cojax becoming a Validated, a true defender of the city, is his greatest ambition. That all changes when Jessica appears—a girl from outside the city walls—from a land that supposedly held no life. Her presence threatens to undermine the entire society, putting Cojax in an impossible situation. He now must choose between what is right and the survival of his people.
I could barely find this book on Goodreads. This book only has 55 ratings, though troubling, score!
★ A Book published by a small press:
The Vanishing Throne is the sequel to The Falconer by Elizabeth May. I read The Falconer last year, so I'll take any excuse to continue the series. Plus this one is published by Chronicle Books, which is a small enough press to count.
★ 

A Book with a one word title

:
The easiest category! And the one that may change the most. Right now I am hoping to tackle Replica by Lauren Oliver or Armada by Ernest Cline or Stray by Rachel Vincent…
This challenge starts on the 13th of August and goes all the way to September 10th. I will try my very best to get my challenge complete by the 1st of September, however, since I have a bit of a "having an alien coming out of me deadline" that is about to smack me in the face this September.
IF I manage to finish The Rogue path without going insane (or introducing my little monster to the world) I plan to tackle The Knight path next. I doubt it, but I can dream.